[ Post New Message | Reply | Edit Profile | Register | Search | Current Connections | Message Board FAQ | Lost Password? ]
---
junkyard dog

Posted By: Myth01 On: 01-04-2008 @ 02:03:32 Reply | Edit
---
anybody have pics of the boyd coddington junkyard dog rim on a trans am?
--
'02 T/A WS6 A4 W/: slp low temp.thermo stat, granatelli air lid, granatelli MAF, k&n air filter, slp loudmouth exhaust,Custom bent Y pipe, slp shock tower support, throttle body bipass,slp cold air induction, sequential tail lights(looks killer),slp sfc's,Bmr lca's,Bmr panhard rod,Boyd C. smoothie II's (18x9), Baer eradispeed rotors (all the way around),Rock On transmission,Vig. 2800 stall, B&M tranny cooler,TA performance rear end girdle,tr55plugs/wires, and a custom tune

---
Posted By: transampimp On: 06-23-2006 @ 22:41:37 Reply | Top | Edit
---
I'm getting them first! Going to Discount tire Saturday to see if they have them in stock to see what sizes they carry. Online I can only find 17-8's , 17-10's, or 18-8,s and 18-10's. I'm thinking about 17-10's all around with 275 rubber if that size will look good. A guy on Mifbody has Smoothie 2's 17-10's all around on his Camaro.
--
1997 Trans-Am LT-1, 6-Speed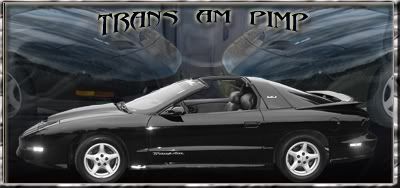 ---
Posted By: Myth01 On: 06-24-2006 @ 13:33:46 Reply | Top | Edit
---
i have 18x9 smoothies II'S but got damaged in an accident. hard time getting replacement smoothie II'S. they have 18x9 in junkyard dog, get 275/35/18 they look good on our cars. do me a favor though if you get the junkyard dogs can you e-mail me some pics.. send em to Mattharrison66@aol.com
--
'02 T/A WS6 A4 W/: slp low temp.thermo stat, granatelli air lid, granatelli MAF, k&n air filter, slp loudmouth exhaust,Custom bent Y pipe, slp shock tower support, throttle body bipass,slp cold air induction, sequential tail lights(looks killer),slp sfc's,Bmr lca's,Bmr panhard rod,Boyd C. smoothie II's (18x9), Baer eradispeed rotors (all the way around),Rock On transmission,Vig. 2800 stall, B&M tranny cooler,TA performance rear end girdle,tr55plugs/wires, and a custom tune

---
Posted By: transampimp On: 06-24-2006 @ 16:00:46 Reply | Top | Edit
---
I went to Discount tire today... They don't have them in stock and can't call Boyd tell Monday. Why don't you just order another Smoothie 2 rims? I will for sure send pics if I get them. I keep hearind mixed comments on Boyd rims. Alot of people say they really don't have that high of quality. I've never seen one up close. I will send youpics,if you post up some pics of your current combo.

How would 17-10's look with 275 nitto rubber all around?
--
1997 Trans-Am LT-1, 6-Speed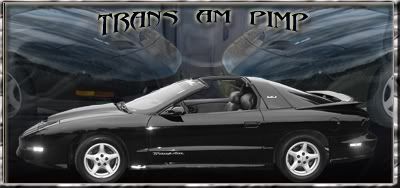 ---
Posted By: Myth01 On: 06-24-2006 @ 17:22:09 Reply | Top | Edit
---
i can e-mail you the smoothie II pics, hard time posting them. i like them , they took a curb impact pretty good (hehe) drop me your e-mail and i 'll send you some pics i took. i got the same answer from discount tire. they have the junkyard dogs in stock in there online store. you getting 17's or 18's i know they have the 18's. boyd has no production dates on the smoothie's i called boyd direct and got the same answer.
--
'02 T/A WS6 A4 W/: slp low temp.thermo stat, granatelli air lid, granatelli MAF, k&n air filter, slp loudmouth exhaust,Custom bent Y pipe, slp shock tower support, throttle body bipass,slp cold air induction, sequential tail lights(looks killer),slp sfc's,Bmr lca's,Bmr panhard rod,Boyd C. smoothie II's (18x9), Baer eradispeed rotors (all the way around),Rock On transmission,Vig. 2800 stall, B&M tranny cooler,TA performance rear end girdle,tr55plugs/wires, and a custom tune

---
Posted By: transampimp On: 06-25-2006 @ 13:32:49 Reply | Top | Edit
---
holmer84@hotmail.com ... Thats kinda bs if you buy a set of wheels and need to replace one and they can't get you one. How is the quality? I would appreciate the pics when you get a chance. Thanks
--
1997 Trans-Am LT-1, 6-Speed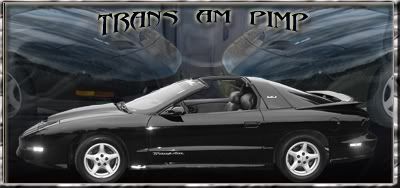 ---
Posted By: Myth01 On: 06-25-2006 @ 14:47:55 Reply | Top | Edit
---
no the insurance is only replacing 3, i'm gonna buy the 4th. the quality is good, had no issues till the acident
--
'02 T/A WS6 A4 W/: slp low temp.thermo stat, granatelli air lid, granatelli MAF, k&n air filter, slp loudmouth exhaust,Custom bent Y pipe, slp shock tower support, throttle body bipass,slp cold air induction, sequential tail lights(looks killer),slp sfc's,Bmr lca's,Bmr panhard rod,Boyd C. smoothie II's (18x9), Baer eradispeed rotors (all the way around),Rock On transmission,Vig. 2800 stall, B&M tranny cooler,TA performance rear end girdle,tr55plugs/wires, and a custom tune

---
Posted By: luksifer On: 06-25-2006 @ 19:29:30 Reply | Top | Edit
---


My Caps Lock Button Is Broken

--
midnight blue 2002 firehawk

---
Posted By: luksifer On: 06-25-2006 @ 19:31:51 Reply | Top | Edit
---
u could prolly get torq thrust rims for the same price unless the discount tire could get a killer deal. they look exactly like that
--
midnight blue 2002 firehawk

---
Posted By: transampimp On: 06-25-2006 @ 21:56:11 Reply | Top | Edit
---
Just looking for something a little different. I've considered the TT2 rims and may still get them.
--
1997 Trans-Am LT-1, 6-Speed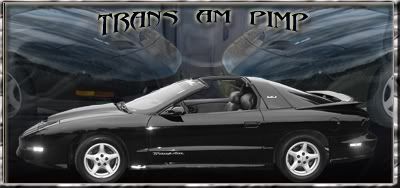 ---
Posted By: italianstalionjk On: 06-27-2006 @ 16:52:24 Reply | Top | Edit
---
hey (luksifer) since you have then i was wondering if the smoothies were alot lighter than stock? I currently have the C6 rims but they slow my car down alot so i want to get the TT II's or smoothies. Let me know if you noticed a differnce in speed or weight

--
98 Formula. WS9 Hood, Chrome Corvette C6 Rims,
Wings West W-Type Full Body Kit, AVS Tail light
Blackouts, Fog lights and side markers custom
tinted with 5% tint 2 times. Performance mods soon.

---
Posted By: transampimp On: 06-28-2006 @ 03:27:23 Reply | Top | Edit
---
18's will do that to acceleration. I'm thinking 17-10 all around Junk yard dog rims are what I will get if Discount tire ever gets there butt's going.

- How long doe's it take for boyd to get his rims out?
--
1997 Trans-Am LT-1, 6-Speed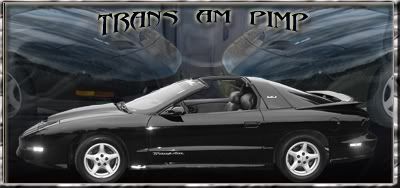 ---
Posted By: luksifer On: 06-28-2006 @ 13:56:32 Reply | Top | Edit
---
sorry havent been on here in a while. i actually dont have the tt2s but want them really bad. my car has stock rims. i just noticed the rims he was looking at looked alot like the tt2s.
--
midnight blue 2002 firehawk

---
Posted By: transampimp On: 06-28-2006 @ 14:02:31 Reply | Top | Edit
---
Just got a quote from Discount online for approx. $2145.00.
4X 17-10 inch Junk yard dog wheels
4X P275/40ZR-17 Nitto NT555 extreme tires

I know that those tires look good on the 9.5 inch wide TT2 wheels but how about a 10 inch wide rim? I'm going to make sure they can have all this within a week from my order.

--
1997 Trans-Am LT-1, 6-Speed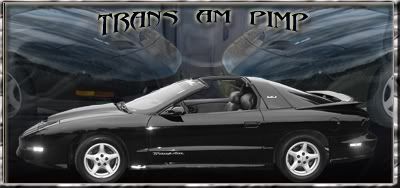 ---
Posted By: Myth01 On: 06-29-2006 @ 01:10:06 Reply | Top | Edit
---


My Caps Lock Button Is Broken

--
'02 T/A WS6 A4 W/: slp low temp.thermo stat, granatelli air lid, granatelli MAF, k&n air filter, slp loudmouth exhaust,Custom bent Y pipe, slp shock tower support, throttle body bipass,slp cold air induction, sequential tail lights(looks killer),slp sfc's,Bmr lca's,Bmr panhard rod,Boyd C. smoothie II's (18x9), Baer eradispeed rotors (all the way around),Rock On transmission,Vig. 2800 stall, B&M tranny cooler,TA performance rear end girdle,tr55plugs/wires, and a custom tune

---
Posted By: Myth01 On: 06-29-2006 @ 01:14:07 Reply | Top | Edit
---
why are you steering away from 18's, there the max to go before you start to sacrifice performance
--
'02 T/A WS6 A4 W/: slp low temp.thermo stat, granatelli air lid, granatelli MAF, k&n air filter, slp loudmouth exhaust,Custom bent Y pipe, slp shock tower support, throttle body bipass,slp cold air induction, sequential tail lights(looks killer),slp sfc's,Bmr lca's,Bmr panhard rod,Boyd C. smoothie II's (18x9), Baer eradispeed rotors (all the way around),Rock On transmission,Vig. 2800 stall, B&M tranny cooler,TA performance rear end girdle,tr55plugs/wires, and a custom tune

---
Posted By: transampimp On: 06-29-2006 @ 03:20:37 Reply | Top | Edit
---
A) Price
B) The cost of tires
C) Easyer to damage
D) More bling...... Less performance
17's are about as big as you want to go without loosing power from weight receprecating further away from the center of the tire. Sure I may not notice even notice it..... but it is a good excuse to go with 17's. I did consider going 18's out back and 17's up front for awhile. I think 17-10's will look great and still have a bit of bling. The best part is I will be able to rotate them until fall when I get drag slicks. I just hope 275's look good on them.
--
1997 Trans-Am LT-1, 6-Speed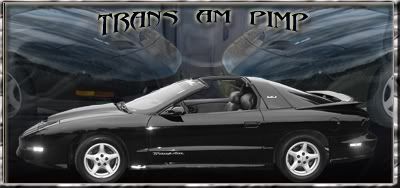 ---
Posted By: transampimp On: 06-30-2006 @ 12:13:51 Reply | Top | Edit
---
Never mind.... Look's like a 275 tire won't look good on a 10 inch rim. I was told to go at least 285 and I don't think that would work up front. Guess I am either going with 18-9's all around. Or 18's out back, and 17-8's up front. I've been looking into that BFG g-force exotic tire tread.

Myth 01 how did you smash your old ones?
What kind of polish do you use?
I think I am going to order Zoop seal
--
1997 Trans-Am LT-1, 6-Speed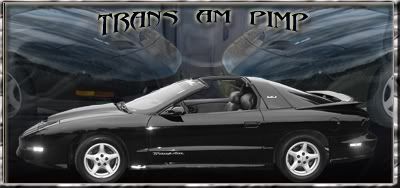 --
1997 Trans-Am LT-1, 6-Speed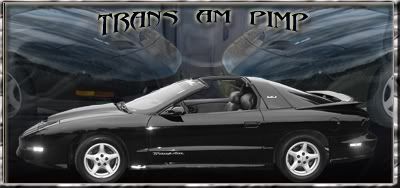 [ Edited on 06/30/2006 @ 12:14:34 ]

---
Posted By: transampimp On: 07-07-2006 @ 03:33:38 Reply | Top | Edit
---
It's official.

Ordered Two 18-9's with 275-35-18 BFG g-Force tires

Combined with two 17-8's and 245-40-17's up front.

Also ordered zoop seal, lug nuts, Ceramic Hawk pads, and some more of my special wax.

Don't even ask how much money I spent. Pics in the next few days
--
1997 Trans-Am LT-1, 6-Speed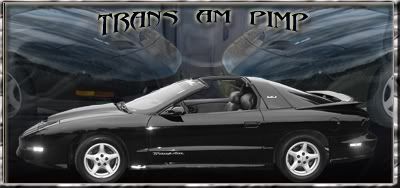 ---
Back To Topic List