[ Post New Message | Reply | Edit Profile | Register | Search | Current Connections | Message Board FAQ | Lost Password? ]
---
Help Removing Spoiler and fixing 3rd Brake Light?

Posted By: mrcrazyhimself On: 05-26-2008 @ 21:34:15 Reply | Edit
---
I have a cracked spoiler on my 89' Firebird, but have a replacement ready to be installed but i'm having trouble removing the old spoiler. I see these black covers under the hatch that I assume remove the spoiler but are glued tight and I can't even remove one. Any advice on this to help get the new spoiler on? Also, I'm not sure if I need to have a 3rd brake light for my inspection on an 89? I live in new york
--
1989 Pontiac Firebird with 2.8

---
Posted By: mrcrazyhimself On: 05-27-2008 @ 19:04:59 Reply | Top | Edit
---
Anyone? I'm doing this project tmrw...
--
1989 Pontiac Firebird with 2.8

---
Posted By: camaro91 On: 05-27-2008 @ 22:39:02 Reply | Top | Edit
---
those are just black plugs. they're not glued in (shouldn't be) just get a screwdriver underneath it and pry it out. then there is a bolt maybe a 13mm?
and yes i do believe you need your 3rd brake light. if it came on there it needs to stay on there.
--
'91 RS, 305 tbi, auto, flowmaster american thunder
big plans!
355 lookin for 11's!

mods: tci 2500 stall, 3.73 posi, built 700r4, transgo shift kit

---
Posted By: dan On: 05-28-2008 @ 23:13:35 Reply | Top | Edit
---
3rd brake light is federal mandate on all 86 and newer cars so...yeah..

--
98 formula m6 13.125 at 105.22 1.949 60' with just a lid
84 trans am lsx project
92 d250 tow rig, 99 firebird vsux

---
Posted By: LeadFootedRacer On: 06-01-2008 @ 01:16:41 Reply | Top | Edit
---
if it came with it, its gotta be there.

same thing with cat laws, if it had it stock, its still gotta have one.
--
1987 Trans Am - 5.0 Auto - Flowtech Shorties - Flowmaster American Thunder - Spohn LCA's & Solid Sway Bars - Summit Drop Springs - SOLD
1989 K-5 Blazer - 5.7 - 4" Rough Country Lift - 35" BFG All Terrians - Dual 2 1/2" Pipes & Flowmaster Super 44s
1984 Firebird - No Motor or Trans - Checkered Racing 4 Link Backhalf - M/T Sportsman 31x18.5 on 15x15 Weld Pro Stars
Pics Seen HERE-- Fbody.com Site Donator --

---
Posted By: hurst On: 06-09-2008 @ 20:32:46 Reply | Top | Edit
---
as far as i know in pa, it only has to work if it is there, so if the 3rd brake light is not there, it doesnt have to work, removed the spoiler and 3rd brake light off my 88 formula welded up the holes, and the back end has a nice clean look

---
Posted By: dan On: 06-13-2008 @ 21:32:35 Reply | Top | Edit
---
^whoever does your inspection is an idiot then thats all..
any car made since 1986 is FEDERALLY mandated to have a 3rd brake light present and functional
it is illegal to remove the 3rd brake light on any car that came with one from the factory
--
98 formula m6 13.125 at 105.22 1.949 60' with just a lid
84 trans am lsx project
92 d250 tow rig, 99 firebird vsux

---
Posted By: hurst On: 07-09-2008 @ 19:25:57 Reply | Top | Edit
---
thats why my car always passes inspection, and i am also a certified pa inspection mechanic, even though i do not work in a garage anymore and in pennsylvania, it ONLY has to work if it is present

---
Posted By: Pocket On: 07-10-2008 @ 01:23:47 Reply | Top | Edit
---
Doesnt make you any less of an idiot
--
"If you have complete control over the damned thing, you're not going fast enough." - Carrol Smith

---
Posted By: roubenbird On: 07-10-2008 @ 10:05:53 Reply | Top | Edit
---
Wait, my 93 S-10 doesn't have one, was that on passenger cars only?
--
Being rebuilt, It'll take a while: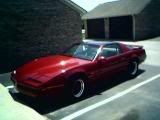 WS6 3o5 TBI 88' Formula, 670cfm Holley Projection Throttle Body Holley Projection Intake Mainfold, Underdrive Pulley,Dual Snorkle & Factory Cowl Induction,now with short straight pipes, UMI Subframe connectors, Fourth Gen seats, Three row Radiator, Posi rear end (2.73),TPI heads, 1.6 roller rockers
15.543 @ 88.21mph

---
Posted By: hurst On: 07-10-2008 @ 20:18:57 Reply | Top | Edit
---
big suprise that pocket has a smartass comment

---
Posted By: Calaban007 On: 07-10-2008 @ 20:22:47 Reply | Top | Edit
---
I have to add that my 91 nissan stanza came with one and I took it out. I never had an issue getting it inspected at several different places while I owned the car. When I bought it, the back dash was falling apart (particle board) so I cut a piece of paneling and replaced it, and left out the 3rd brake light. It may be federal law, but no one enforces it apparently. I've never heard of anyone even being stopped for it being out as long as the lower two are working.
--


1995 Camaro Z28, M6, T-Top Conversion & 1989 IROC-Z Stock restoration in progress, well almost stock
http://www.myspace.com/163296073
---
Posted By: Pocket On: 07-11-2008 @ 01:41:11 Reply | Top | Edit
---
Tampering with safety and emission equipment is a federal offense

Whether or not the county inspectors enforce them isnt the issue

Its still illegal to remove smog, tint windows, remove/tint/cover tail lights, install non factory seatbelts, seats, etc

Knowing the steep fines and possible jailtime for inspection offices, its a pretty sound statement that you, Hurst, are an idiot and I dont need a smartass comment to prove it.
--
"If you have complete control over the damned thing, you're not going fast enough." - Carrol Smith

---
Posted By: hurst On: 07-11-2008 @ 05:19:42 Reply | Top | Edit
---
yet you still will and do

---
Back To Topic List